The Oak Tree Inn is launching a major initiative to reduce litter in Balmaha. The pretty village on East Loch Lomondside is one of the most popular destinations in Loch Lomond. However, like many other natural places, littering is a problem too. Therefore, we have to keep Balmaha clean.
At the heart of the lochside village is The Oak Tree Inn, St Mocha Coffee Shop and Village Shop, all owned by The Fraser Family. Over the last two decades, the family has supported a wide range of community projects to help enhance and preserve the village., and keep Balmaha clean.
Sadly, like many locations in the National Park Balmaha suffers from litter problems, especially on busy days. The family remain supportive to all activity by the National Park Authority, Stirling Council and Friends of Loch Lomond & The Trossachs to resolve litter issues across the park.
The park consists of many mountains and lochs, and the principal attractions are scenery, walking, and wildlife.
To tackle the problem The Oak Tree Inn has today launched a new campaign to Keep Balmaha Beautiful. For that matter, they will organise picking groups and set boards encouraging people. Afterwards, the Oak Tree will recycle as much of the waste as possible.
Just 10-15 min cleaning up makes the difference
Owner Sandy Fraser said: «We are impressed by a similar initiative to tidy English beaches. We want to introduce our own clean-up campaign to Balmaha. As important as sharing the load of keeping the village tidy, we believe that public involvement will send a powerful message. We hope it will discourage the minority who drops litter»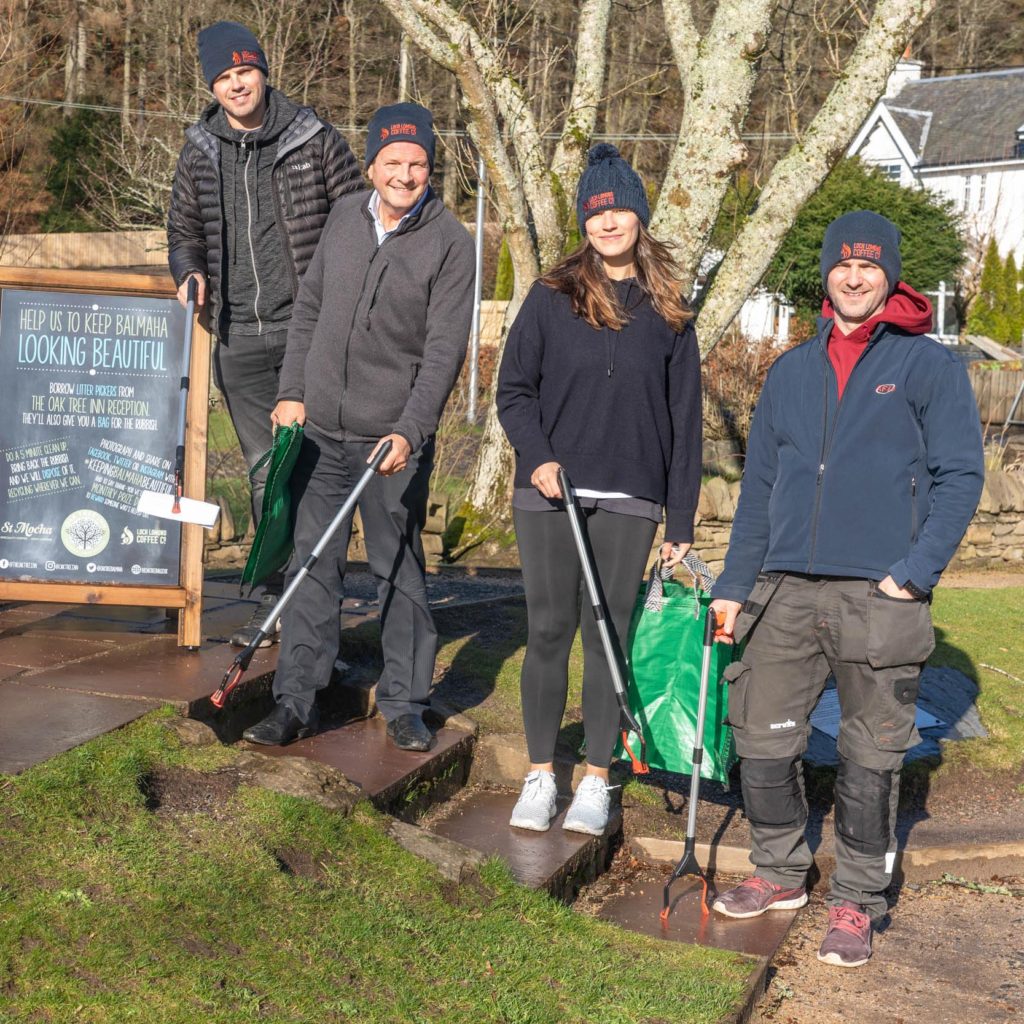 «Over the years many visitors have offered to assist us whilst picking litter. We think if we have more people involved, and providing equipment, we will have a significant impact».
«We want the cleanups are manageable, so maybe 10 or 15 minutes and we will be rewarding those who do by placing them in a monthly prize draw».
Loch Lomond and The Trossachs National Park is the fourth largest in the British Isles. Its centre is Loch Lomond and the hills and glens of the Trossachs. Moreover, It receives thousands of visitors each year. Definitely, it is worth to keep Balamha clean.