Fernando del Corral and his Border Collie, Floki, live just a short 10-minute walk away from the beach in El Cerrado de Calderón. Floki, a young dog of about a year and a half, enjoys his kibble, chasing sticks as far as possible, and going for a swim in the sea. The problem is that in a city situated on the Mediterranean coast, there is not a single beach for dogs in Málaga. «When we want Floki to go to the beach, I have to take the car and go all the way to La Cala. And even then, it's not a comfortable beach for us,» says Fernando. «If we are in a city with a beach, it should also be one for our dogs who live with us. It seems that the mayor has forgotten about them.»
On Wednesday, 15 beaches were officially opened though none of them are designated for dogs. There is only one beach for dogs in Málaga, in Totalán stream, which is shared with Rincón de la Victoria. Too many dogs for such a small beach. Moreover, the water there is not suitable for swimming due to drainage issues. Another option is at the mouth of the Guadalhorce River, on the border with Torremolinos, but it is not close of what its understood as a beach.
The Mi Mejor Amigo Málaga Association (AMMAM) has collected signatures to request the City Council allows dogs on the beach. Pedro Gil, the association's president, points out examples of dog-friendly beaches in Cádiz or Marbella: «Swimming in the sea is a right for everyone. Dogs don't dirty or contaminate. The beach belongs to everyone.»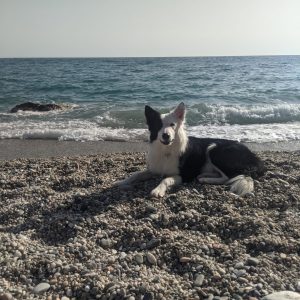 Gil mentions that the City Council refers to the European ordinance that states dogs´ beaches should be located where humans cannot swim, which some find contradictory because if humans cannot swim there, it ceases to be a beach. Nevertheless, municipalities have the authority to establish certain regulations.
There is no clear definition of what is a beach for dogs in Málaga or whether it requires specific characteristics, as the General Coastal Regulation does not mention them. However, AMMAM believes that the only requirement is a physical separation. «It is not fair that in a city with a beach, our dogs cannot enjoy it.» Although reading Redcanina.es website, it reveals elements such as dog-sized showers, a water dispenser, and a poo area. Owners also have obligations, such as carrying the dog's documentation, leash and muzzle in the case of potentially dangerous dogs, as well as carrying bags for their needs.
Animalist party calls for dogonstration
According to media reports, there are around 37,000 registered domestic dogs in Málaga. During the pandemic, many people decided to adopt a pet, leading to a spike in adoptions. The municipality's coastline stretches for 17.5 km, with 13.5 km being beach areas. One would think that if this community could vote, the City Council would pay more attention to their needs. However, according to Redcanina, Andalusia and Valencia are the regions with the most pet-friendly beaches.
The animal rights party, PACMA, is calling for a dog-protest at Huelin Beach on June 25th and ask the council for a beach for dogs in Málaga. The day after the bonfires, it will be demonstrated that dogs are not the ones who make the most mess. Carmen Sánchez, provincial coordinator, says, «If we can't achieve a specific 24-hour beach for dogs, there could at least be designated time slots for coexistence, just like in many other beaches.
For example, the entire beach could be accessible to dogs until 11 in the morning or from seven in the evening.» She also wants these beaches to be adapted for people with reduced mobility who are accompanied by dogs, unlike the Totalán stream beach. Nevertheless, she does not believe that the new city council will bring about any changes. «A few months ago, we had a meeting with the Málaga City Council, and they made it clear that they are not interested. They use Totalán as an excuse, which is clearly insufficient.»
As an internationally renowned city on the Costa del Sol, Málaga attracts many visitors who enjoy the beach, and it is usual for them not to bring their pets along. That is why Floki and many others are not high on the city council's priority list for this summer. It ranks two or three points below providing shade at the Feria and one point above climate shelters.
NOTE: At the time of publishing this article, the City Council has not responded to inquiries from this journalist.