Beyond any doubt, bikes are good. Maybe they are inconvenient sometimes but the benefits setoff all incovenience by far. In a 5 miles radius, at least. Greater Manchester Combined Authority (GMCA) kick-started its scheme to set the biggest bike network in the UK.

Manchester has set the biggest bike network in the UK
Andy Burnham, Greater Manchester's Mayor, said he wants to lead the region toward a green future and be carbon neutral by 2038. For example, doing the city more frendly to bikes and pedestrians.

Brunham and Chris Boarman, the Olympic cyclist, have designed the biggest bike network in the UK; it is 'Bee Network'. Indeed, it started the first stage by ManchesterCity from Chorlton to Manchester last Monday 11th, although the first shcheme was Bridge Water canal, from Wigan to Eccles. The track was open last summer.
Cllr Angeliki Stogia said: «By creating better crossings and segregated routes, we will make it safer and more convenient for our residents to walk and cycle»
On the other hand, Chris Boardman said: "Seeing this first phase of works get underway is a very exciting step forward. Certainly, it's our ambition to enable people to walk and ride around Greater Manchester in comfort and safety. Hopefully, when complete, the Chorlton to Manchester route will allow thousands of people to leave the car at home when making the short journey to the city centre».
Moreover, Boardman tweet recently that more than 2 million car journeys in GM are less than… 1km. And the rest in the UK is very similar.
A report published in 2017 by Transport for Greater Manchester and the walking and cycling charity Sustrans gives some interesting figures. For instance, only 5% of the residents in GM commute to or from the work on a bike. However, 77% support to use more space for bike lanes, even if this means less space for other road traffic. Indeed, one of the main barriers to using a bike actually is safety. Just 25% think cycling safety is 'good'.
The Bee Network plan
The whole plan will increase the walking & cycling network from around 1,000 miles to more than 1,800. Overall, the price will be £1.5bn. The project will be fund by Mayor's Challenge Fund, Local Authorities and local contributions. Nevertheless, TfGM estimates the benefits will be around £3.75bn in health, accidents, polluting, and traffic congestion.
For illustration, you can see an interactive map of the Bee Network in Mapping.org.uk
A spokesperson form Sustrans said: «If everything develops as planned this will mean people will have safe, pleasant routes separate from traffic or along quiet roads, between their homes and the places they regularly travel. It will mean many more people will choose to travel by bike in the next five years
On of the key for success are the junctions. Most of the accident with pedal bikes involved are in the crossing points. Therefore, The Bee Network has developed CYCLOPS, which main feature is an external orbital cycle track separating cyclists from the road traffic.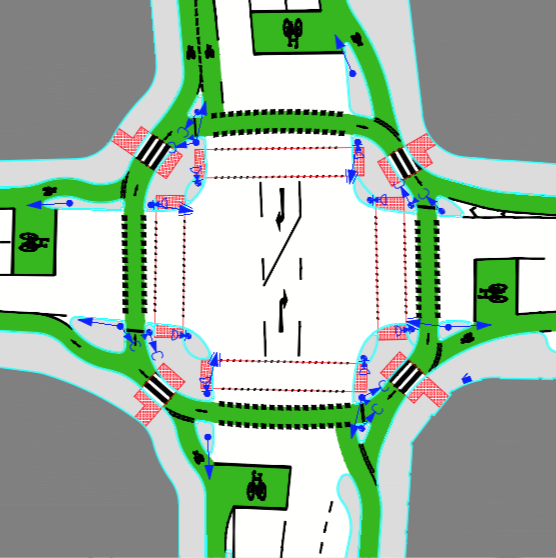 "Junctions are where most collisions occur and can be a scary experience for people travelling without cars," said Boardman. "If people are faced with one or more of these stressful experiences on a journey, in many cases they simply opt to jump in the car, so tackling this is a top priority».
Furthermore, several other UK cities, including Cambridge and Aberdeen, are also working on plans based on the Cyclops design template.
Bike as regular transport
Greater Manchester has not very sunny weather, but the benefits of using a bike are beyond the weather. Especially in time and money. Leaving apart waiting times in traffic jams or waiting for public transport, bikes usually are equal or even faster. At least in the city.
In addition, they have not parking problems as cars. Plus no petrol costs. And fix it are easier and cheaper by far.
Some comparations
Below are some comparations between different points in the region. However, bear in mind petrol costs, parking timings, traffic jams, and health risks.
From Salford to Manchester






From Platt Fields Park (Fallowfield) to Piccadilly Gardens
From Chorlton-Cum-Hardy to Piccadilly Gardens
From Ashton-Under-Lyne to Piccadilly Gardens