A group of neighbours from Levenshulme, and further, gathered yesterday to ask the Manchester City Council to improve cycle lanes in the area. The community group A6 Cycle Action will join every fortnight until they «see some action from the council». Definitely, Levenshulme ask for pop-up bike lanes.
«During the lockdown my bike has been my primary transport»
A group of young women -Rachel, Laura and Molly were there making noise. All of them use the bike regularly, more during the lockdown. They, as Levenshulme neighbours ask for pop-up bike lanes, «During the lockdown, my bike has been my primary transport».

«It seems mad not encouraging more cycling while we can not use more public transport (Because of the coronavirus)».
Figures from MCC shows a gradual but slow increase in the use of public transport, although car usage is much closer to pre-lockdown levels. A report from MCC states that at 14th of July; tram and bus were 26% and 37% respectively compared with 9th of march. Traffic on Greater Manchester highways, on the other hand, was 79.3%.
Great demo by A6 Cycle Action at today's 3rd peaceful event. Glad to have attended yet again with my 5yo. As A6 residents we'd *still* like to 🚲+🚶🏻‍♀️safely & breathe #cleanair. Not seen any @ManCityCouncil statement on planned actions #SafeStreetsSaveLives (video by organisers) pic.twitter.com/WLxaHCmdbU

— Lorenza Casini (@naturallycyclin) July 25, 2020
Bikes have many benefits and Manchester City Council and GMCA is pushing for a solid and reliable Bee Network. However, some people think it is not enough. Cycle Action would like to see how Manchester City Council get the momentum and follow other cities in the UK that «have moved a lot of people into cycling because they feel safe».
«We want the council to be held into accountable», a Cycle Action spokeswoman said. «It's great the council have declared the climate emergency and they are very aware of the health issues of its residents. But we are not seeing action out of its commitments».
«Around this area (Levenshulme), we know about 45% of households don't own a car. Normally, public transport is running at 85%, and now is running at 10% (…) We think this is a health issue, climate issue but also a social justice issue.
Manchester Council rely on its original bike scheme
GMCA confirmed that it has secured £3.1m from the government Emergency Active Travel Fund to ease walking and cycling in a green recovery. Others boroughs around Manchester have submitted a bid to do pop-up bike lanes. This includes a Stockport project £56,000 temporary bike lane on A-6, which will end up in Levenshulme, 3.5 miles away from the city centre.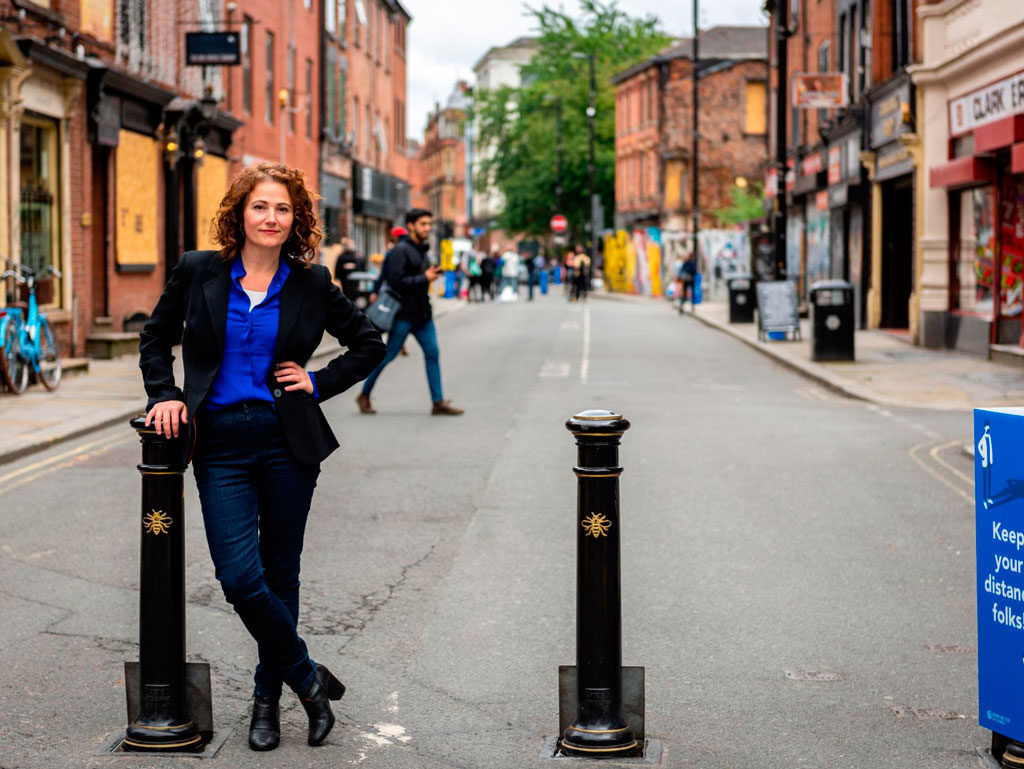 Cllr Angeliki Stogia, executive member for Transport, justify its position on «long-term solution». She said at the council last month that bike lanes are «not a magic bullet». She also argued that taking road space out of major arterial routes would see a return to congestion much more quickly.

«We're continuing to move forward with our £79m pipeline of projects, which will enable more people across the city to make the switch to walking and cycling for their everyday journeys".
They include close gaps in the current network, improve crossroads with CYCLOPS desgin, and pedestrianise parts of Northern Quartern.
For others, one of the barriers is that the city transport design is too focused on Manchester City. Molly thinks that the travelling options send people to the city centre and not in between districts and around. «This means that infrastructures to get people in other directions are highly de-prioritise».

Many people have bought a bike this lockdown, and Cycle Action wouldn't like to miss the momentum. «If you start cycling during summer and you get it into a habit, it becomes quite natural to carry one cycling, but if you ask someone who has never ride a bike before in winter, that's a lot of harder. So would make more sense do it now».

Although many people would like to switch their way of transport, the winter is dark and long. We will see how the city promotes active transport and get people into two wheels.