Revised on 27/02/20
Last week, the charity Keep Britain Tidy organised Network Conference & Awards 2020. It provided a platform to share practice and initiatives and creating networking opportunities. The awards recognise the best actuation. There Manchester gets a reward for its recycling.
Recycling in apartments buildings
A spokesman from the council said: "We won the KBT award based on supporting residents to improve recycling performance in apartments".
Recycling in apartments «is very low and in Manchester it was at around 10%. This project improved communication between residents, building managers and the local authority. It helps to improve the infrastructure in place at most buildings and rise the average recycling rates to over 20%».
Waste is a real problem. Most of the people are worried about the disposal stage of the products and they are keen on recycling. In fact, is one of the first thing people mentions about what environment action are they doing. Andy Burnham, Greater Manchester Mayor, said: "We need to work with our suppliers to be able to take more for recycling and that's the direction that all of our councils want to go".
However, Robert Nunney, from the Green Party Manchester, applauds the council for assisting volunteers groups by providing collection service. "I think that street cleaning should be brought back in the house so that the council can have better control".

Nunney participates regularly in cleaning groups. He said he collects tens of large bin bags every time they going for picking litter, although it depends what area they target. "I am particularly concerned about the forgotten areas. I live and work in Wythenshawe where we have a number of woods. Each one of these woods is abused by fly-tippers".

"I speak to residents in Wythenshawe every week, and litter and fly-tipping are regularly mentioned as areas of concern. There is a feeling that there is no longer a sense of pride in the area".
He thinks there is a lot of room for improvement before Manchester gets a reward for its recycling.

MCC actually sends less waste for recycling
Nonetheless, according to Waste Data Flow, MCC has decreased the percentage of waste sent for Reuse, Recycling or Composting. It also has reduced the total amount of waste collected, though. From recycling 44% out of 105 kg collected per person in Apr-Jun 2018 to 37.5% out of 99.8 kg in Jan-Mar 2019, last quarter registered.

Each Local Authority deals with its waste differently. In Greater Manchester, for example, just send for recycling plastic bottles. The Waste Disposal Authority sends the rest to incinerators for recovering Energy from the waste (EfW).
A former employer for Trafford City Council thinks it is because disposal authorities send too much to incinerators.

"Create energy (in that way) is more expensive than from fossil fuels. So, it doesn´t make too much sense if you say 'we are not recycling more because we are creating energy from it (the waste)'"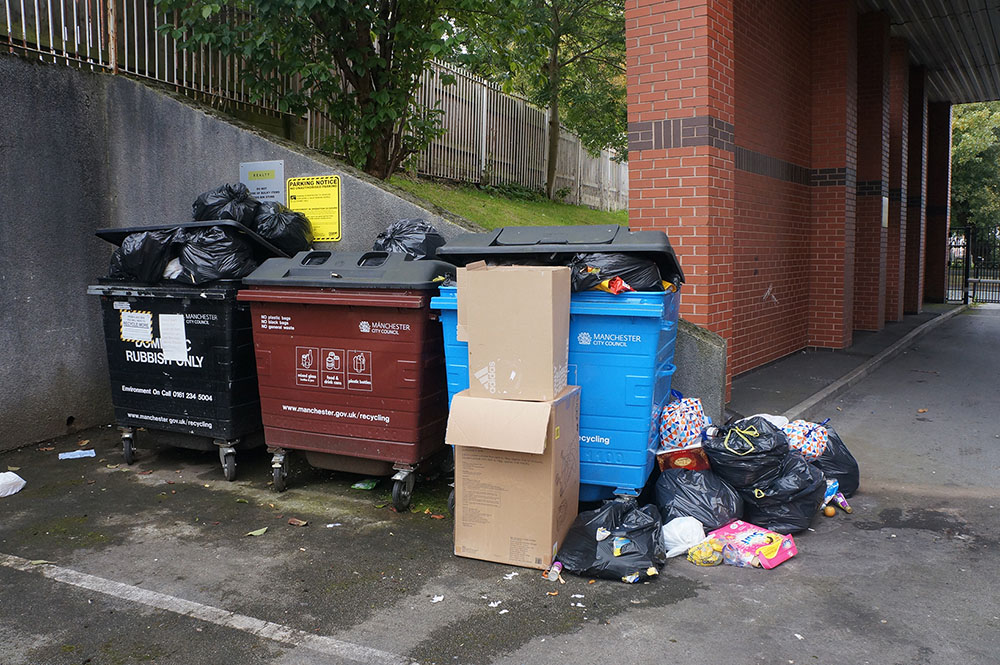 Recently, the BBC reported about the fly-tipping problem has increased in the UK. It may suppose up to £60m in clean-up task to the Local Authorities, since 2012.
KBT is the country's leading anti-litter charity. They are the experts on litter, fly-tipping and dog fouling, as well as running the country's awards programmes for parks and beaches and the biggest environmental education programme in schools.

They also rewarded other councils for Outstanding Service Delivery, Litter initiative of the Year, Team of the Year, Great British Spring Clean, Excellence in Enforcement, Love Parks, and Community Engagement Award.

People involved in the sector say that the best way to fix this problem is to generate less waste in the first place. They repeat the 3 R's: Reduce, Reuse, Recycle.
Manchester City Council actions
The Council budget on Waste and Recycling and Street Cleaning was £63.56m in 2019/20. An increase from £46.9 million in 2015/16. The council spends most of the budget on collection and disposal of waste, recycling, litter and fly-tipping.

A spokesperson from the council says they are one of the most proactive local authorities on investigating fly-tipping incidents: «Our Environmental Crimes team achieved more than 10% of all prosecutions in the country in 2017/8».

«The number of fly-tipping incidents in Manchester has fallen in recent years and the city is experiencing fewer offences than cities including Leeds, Liverpool and Plymouth».

They encourage people not to use 'man and van' services unless the vendor proves that he is licensed to carry waste. Very often the waste collected by individuals ends up dumped illegally.

Some people misunderstand the way of recycling, Manchester City Council tries to educate its residents and families. «We have officers who attend schools and help to educate children about the environment and recycling. We also have lots of very pro-active and engaged teachers and staff in Manchester who play their part in sharing the message with school children».

Cllr Rabanawaz Akbar admits there are a lot of more to do, however, promise the council will do all they can for keeping the recycling rate raise. Manchester will get more rewards for its recycling.